What Diwali Means to Me - NCS grad Shyam
The Hindu festival of lights is today (7th November), so we asked NCS grad Shyam what the ancient celebration means to him. 
 
Diwali is a very well-known festival, but what does it actually mean? 
 
Well, to give you some religious context and a bit of history: it is the celebration of good triumphing over evil. Indians tend to celebrate this five-day festival in honour of Lakshmi, the Goddess of Wealth and Prosperity, but also the god Rama, who killed Ravana, the ten-headed Demon King and embodiment of evil, by shooting hundreds of arrows into him as the two fought to the death. When Rama returned home, everyone celebrated the victory. 
 
Typically, lamps, or 'diyas', are lit to help Lakshmi find her way into people's homes. People that celebrate this festival outside of India will gather at places of worship called Mandirs to leave offerings to deities.

 
What does Diwali mean to me? 
 
Picture it this way, it is more or less the Indian version of Christmas. We tend to spring clean our homes, wear new clothes, exchange gifts, prepare festive meals, decorate our houses with fancy lighting and have firework displays. But the deeper meaning behind Diwali, for me, is that it's a time of togetherness. It's a time when families come together to spend time with each other and bond over a festival that is beautifully lit.
 
The smell of authentic freshly-prepared meals and sweets made by my very own grandma as I walk in through the door really set the mood of not only how busy this time of year gets for us, but how exciting it is. Diwali can be celebrated by anyone, just like Christmas. It isn't a celebration entitled to Indians alone, because this celebration, like I mentioned before, is about togetherness. It's about sharing love and having a good time.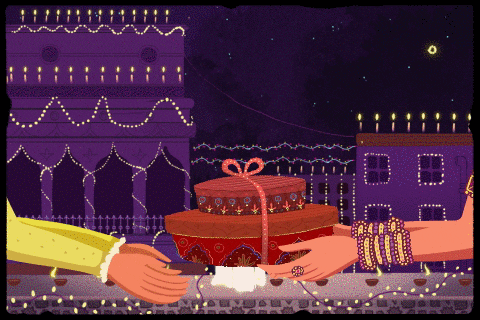 Fun fact: Leicester holds the largest Diwali celebrations outside of India which is quite close to where I used to live. Every year, tens of thousands of people gather in the streets to enjoy the vibrant atmosphere Leicester has to offer during a festive time like this, with light shows, music and dancing.
 
One of the most beautiful things about this festival, like many others in our religion, is that we use a lot of colour. We love colour! A popular Diwali tradition is making rangoli, an art form where we use colourful powders and flowers to make intricate patterns around the house. Usually, rangoli are drawn on the floor by the entrance of homes to welcome the gods and bring good luck.
 
Make sure to check out what Diwali events are happening in your area. Happy Diwali everyone!